ExoMake Manufacturing
EXO Make Manufacturing (Separate Application)
Manufacturing Module (Production Diagram (BP)
ExoMake – How does it work?
The 5 Step Process to Manufacturing Success
Understanding the nitty gritty of any key system is so important. We all know the devil is in the detail so by understanding the process we can see the true benefits of implementing this platform. The five key functional stages include planning customer orders by dispatch date, creating a weekly production plan (or schedule) by department, production while tracking your manufacturing and wastage, tracking your dispatch using quality control measures and implementing dispatch records and lastly, but certainly not least, beautiful reporting! Want to dig into the detail a little more? No problem, read on…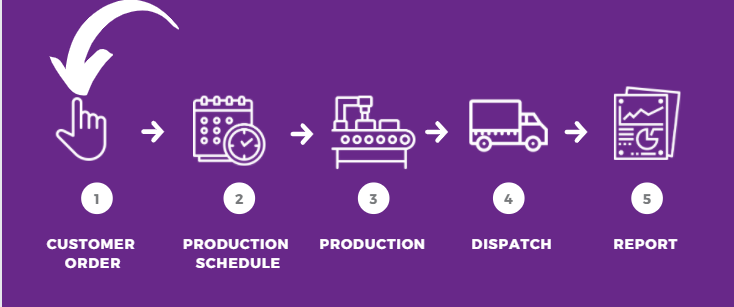 Orders
Customer Orders by Dispatch Date
The first step is to place the customer order into EXO MYOB. The manufacturing system takes a purchase order from EXO MYOB and allows you to schedule orders based on dispatch date. This function shows unprocessed and processed orders. When processing is complete the system works out estimated production hours by department, total raw materials required for manufacturing and allows order to be assigned to a ship. It also displays whether or not orders are confirmed or estimates. Below we have several examples of what this might look like. The following is an example report generated by EXO Make displaying orders by dispatch date.


An example of a shipping schedule and ingredient report generated by EXO Make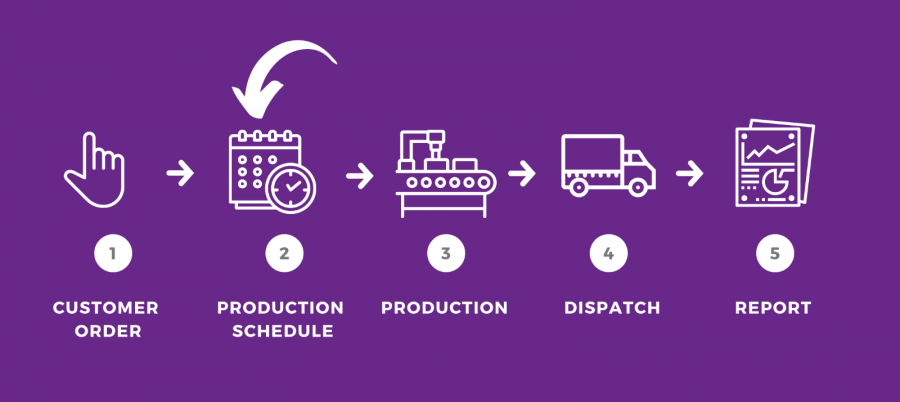 Production Schedule
(Weekly Production Plan by Department)
The second step involves creating a weekly production plan by department. This production schedule allows product orders to be scheduled by using a number of parameters including available departments and staff and resources.
When entering in product lines and the total cartons ordered EXO Make automatically calculates the number of mixes, estimates waste, number of hours and finish time, based on historical information available in the system. At the same time, being smart enough to omit extraordinary runs or events. EXO Make uses the information below to calculate start and finish times for each of the product lines, it also changes start and finish times on the fly whenever changes are made. Nifty right?

The production schedule displays production based on filters of department and week-ending.


Below shows part of the schedule tab each line represents a production run.

Each schedule line also has a status and schedule ID,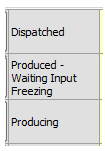 The schedule Number is used to display MYOB Stock and GL Transactions as production is entered
The status displays the status of the specific production run. These are determined by EXO Make Conditions
Below is an example of a weekly production plan.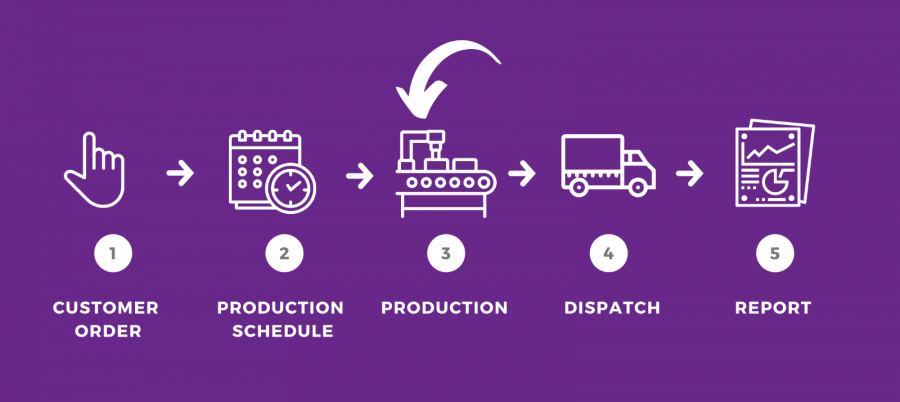 Production
Manufacturing Records / Wastage
From here, we move into the swing of production. The production section is used by production staff to enter in actual production details based on the production plan we talked about previously. The staff enter in the actual number of mixes produced, actual cartons produced and other information relating to the production run using production wizards.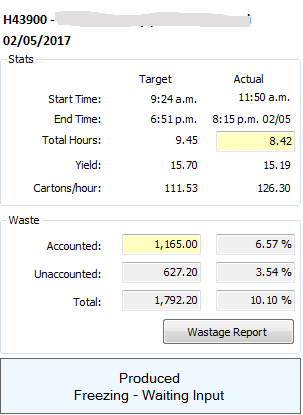 See how production records are entered via a wizard as below.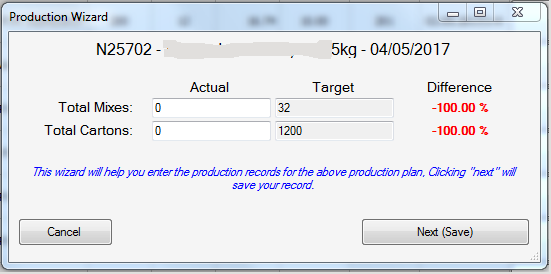 Product details are calculated and displayed in a summary form, By clicking Waste Report a full detailed display of waste and production information is opened.
Staff can also enter ingredient adjustments as EXO Make works on a bill of materials system. If the bill of materials is adjusted during production, adjustments must be entered to ensure correct stock is allocated, and that production figures are calculated correctly.
Below is the ingredient adjustment form.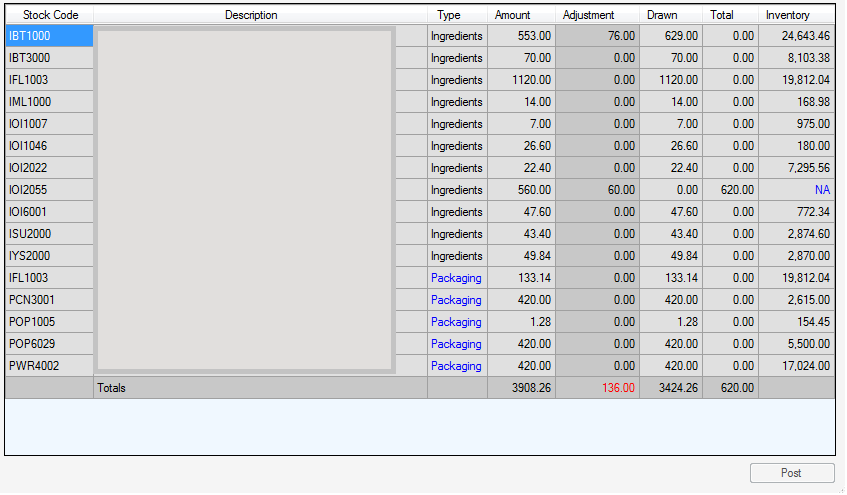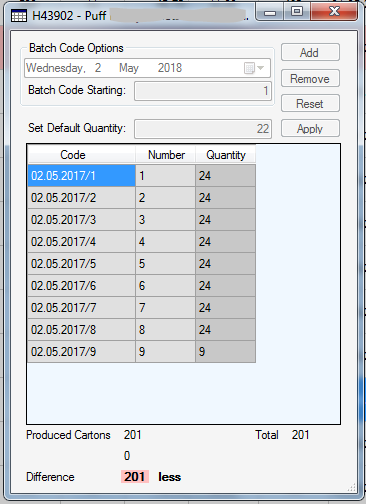 EXO Make also tracks Batch Code Details these details are used for tracking batch codes to production dates and are used in the dispatch section to confirm production figures
Once production records are entered and any raw materials adjustments have been made, the production line is locked and cannot be changed. This is because EXO MYOB ingredient transactions have been created. The example below shows how the system indicates this as the line goes gray when locked. EXO Make has a color-coding system for ease of use. The colors indicate different status', red for example, indicates a difference between production and dispatch carton quantities.

EXO Make generates waste reports based on several criteria; department, date range, product name and product code. Below you can see an example of a waste report. Waste is split up into unaccounted and accounted (skip) unaccounted is production variances like underweights or overweight's.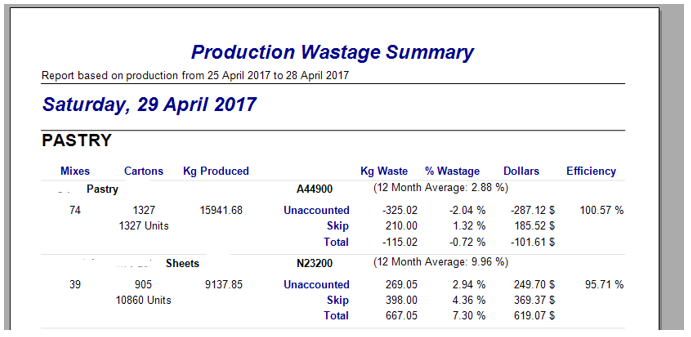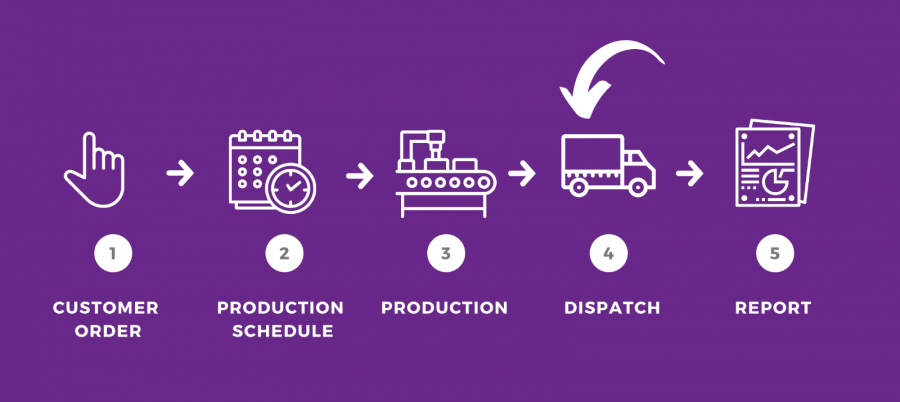 Dispatch
(QC Audit / dispatch records)
The dispatch section is used by the dispatch team to enter actual cartons or units received and various other information.

EXO Make checks all figures comparing produced, received, shipped, holding and calculates wastage.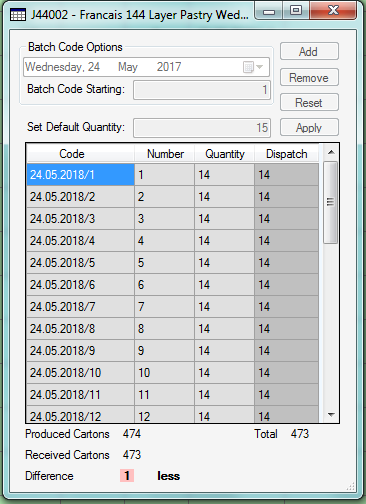 EXO Make QA Section allows production runs to be put on hold. If a production run is on hold when submit is clicked finished product is put into a MYOB EXO warehouse location for product on hold.
EXO Make also tracks Batch Code Details these details are used for tracking batch codes to production dates Dispatch enter QTY in the dispatch column and EXO Make indicates if this is different to production figure.
When the dispatch team submit the record, EXO Make creates the final GL and stock transactions in EXO MYOB. This process cannot be reversed and the dispatch carton totals are the final totals entered into EXO MYOB Stock.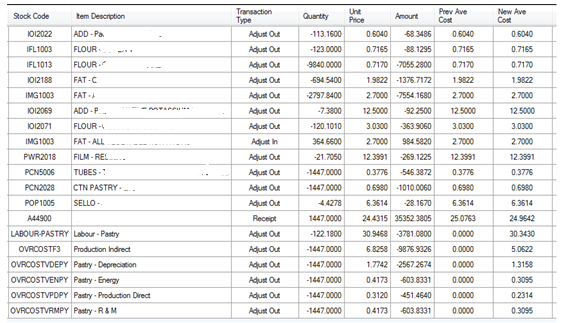 EXO Make Resulting Overhead and stock transactions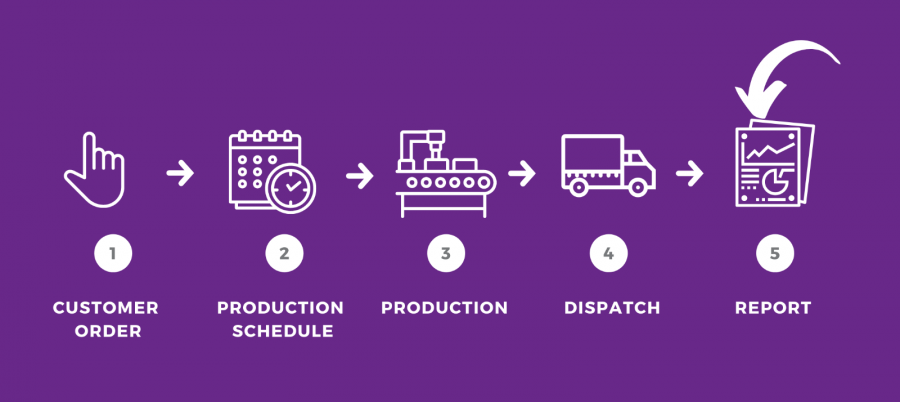 Reports
Exomake capture and compare to target a wide range of production metrics including yield, run rates, staff numbers and breaks waste down to what is usable and what is not;
The reports section displays various system reports which use historical and future system data.
Exomake also has a production review form which is used to display production records based on criteria. You can customize the for to query information to your needs.
EXO Make Resulting GL Transactions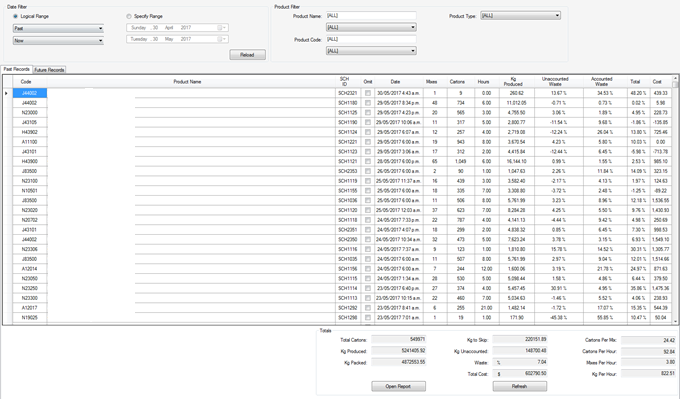 Exomake calculates production totals based on the selected records and displays this information at the bottom of the above form.

Key Benefits to the EXO Make Process
Manufacturing as a whole requires very specific attention to detail. As you can see, EXO Make implements all that detail into one, easy to use system from beginning to end. Having a system that you can use for costing, planning, production and tracking production metrics and waste will support a better bottom line. If you are interested in having a chat or having a demo of EXO Make you can book a time or contact us on XXXXX.
Technical / Product Development – creating and managing our BOM's is a simple and time-efficient process that easily captures and deals with the manufacturing intricacies associated with our products e.g. waste, sub-products, run rates etc.;
Product Costing – Based on the BOM ExoMake captures current prices from out of MYOB Exo Business to deliver a product costing at the touch of a button incorporating raw materials, packaging, labour, freight and overheads seamlessly;
Production Planning – calculates production time at a product level based on history with the flexibility to omit extraordinary production runs or events and allowing for downtime etc.
Inwards Goods – managing inventory, looking at current stock levels and purchase orders combined with the production plan to identify what our requirements are to meet the needs of production;
Logistics – enables us to manage our shipping schedule and reporting easily;
Production – can capture and compare to target a wide range of production metrics including yield, run rates, staff numbers and breaking waste down to what is usable and what is not;
Finance – manages the cost of production based on individual production runs enabling product level or product grouping level profitability reporting;
General – there are a number of customised reports that have been set up within ExoMake that have been set up to provide essential information and reporting across our business;